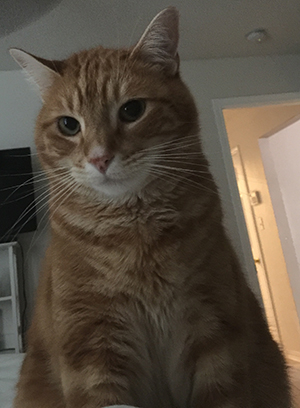 Meet our best buddy Gary. We met him on a fateful night in October of 2013. He was just a kitten, hungry, in rough condition. We took care of him that night - and we never spent another day without him for the rest of his life. We were not "cat people", but he romanced us; jumping our six foot privacy fence to come into our backyard and play with the kids; meeting them at the master bathroom window for bath time. He chose us, and we fell head over hills for him. Once we decided he was officially a member of the family, we took him for his first vet visit. We distinctly remember how we felt when we received the call - Gary had an illness called "Feline Leukemia". He wouldn't live a long life. He would be terribly sick for whatever small amount of time he did have. We should put him down immediately. There wasn't much of a decision to make - no way we would do that to our friend. We would try to help him enjoy whatever life he would have.

What an amazing life it was. Gary made our most mundane moments full of laughter and joy. Because he was a stray and had spent some time living in the wild, he had a strong desire to be outside and free. After his diagnosis, we knew that that was no longer an option. We compromised by teaching him to walk on a leash. This led to so many adventures with him - hunting geese at the lake, climbing trees, chasing birds and butterflies, playing in the autumn leaves. He was the favorite character in our household. Biting mom's toes, going for stroller walks with Lilly the dog frenemy, playing air hockey with the kids, counting them to make sure they were all tucked in before he curled up at the foot of our bed at night - we had more wonderful moments than we could mention. After three symptom free years, Gary took a turn for the worst in late February of 2017, and the best medical care in the country couldn't save him. He passed away on March 3rd, 2017, and he took a piece of our hearts with him.
Fortunately, that's not where Gary's story ends. The Griffin Animal Rescue is a celebration of Gary's amazing life and how much he means to us. Every time we get the opportunity to help a wonderful humane organization, contribute to groundbreaking medical research, or support the fight for animal rights, lives are saved, and Gary lives on. To all of the organizations and individuals who allow us those opportunities by partnering with us or enjoying our projects, thank you from the bottom of our hearts for helping us change the world in memory of our best buddy.